Dr. Carney travels to Jamaica several times each year with teams of volunteers and his family to take care of the dental needs of the poor in underserved remote villages. The clinic here is adjacent to a local church. Construction began in 2004. Dr. Carney has set up seven permanent dental clinics in Jamaica. The one shown below is located in Pondside, on the South Coast.
Pastor Rowe serves the nearby church. When Dr. Carney comes to work in Pondside, she is always willing to lend a helping hand. She organizes the patients and takes care of the clinic when it is not being used.
(below) Dr. Carney's daughters and other children of fellow mission trip dentists love helping in the clinic and playing with the Jamaican kids. The young Jamaican students wait for the "little dentists" to arrive each day.
Occasionally, Dr. Carney's wife, Dr. Sue Carney, speaks to the kids attending the preschool and kindergarten. The school operates out of the church next door. Before the permanent clinic was built, the dentists worked out of the church and the school was moved outside under a tarp. Dr. Sue Carney taught the children how to brush their teeth and how "sugar bugs" create cavities in their teeth. (below)
When construction was completed, Dr. Carney's daughters and the other mission trip children decorated the inside with their hand prints. The hand prints represent all people of every color working together and meeting at the cross. The clinic was then dedicated to Dr. Carney's parents on November 7, 2005. Although there is no Air Conditioning in the clinic, the nicely decorated clinic creates a happy environment in which Dr. Carney and his family serve the Lord.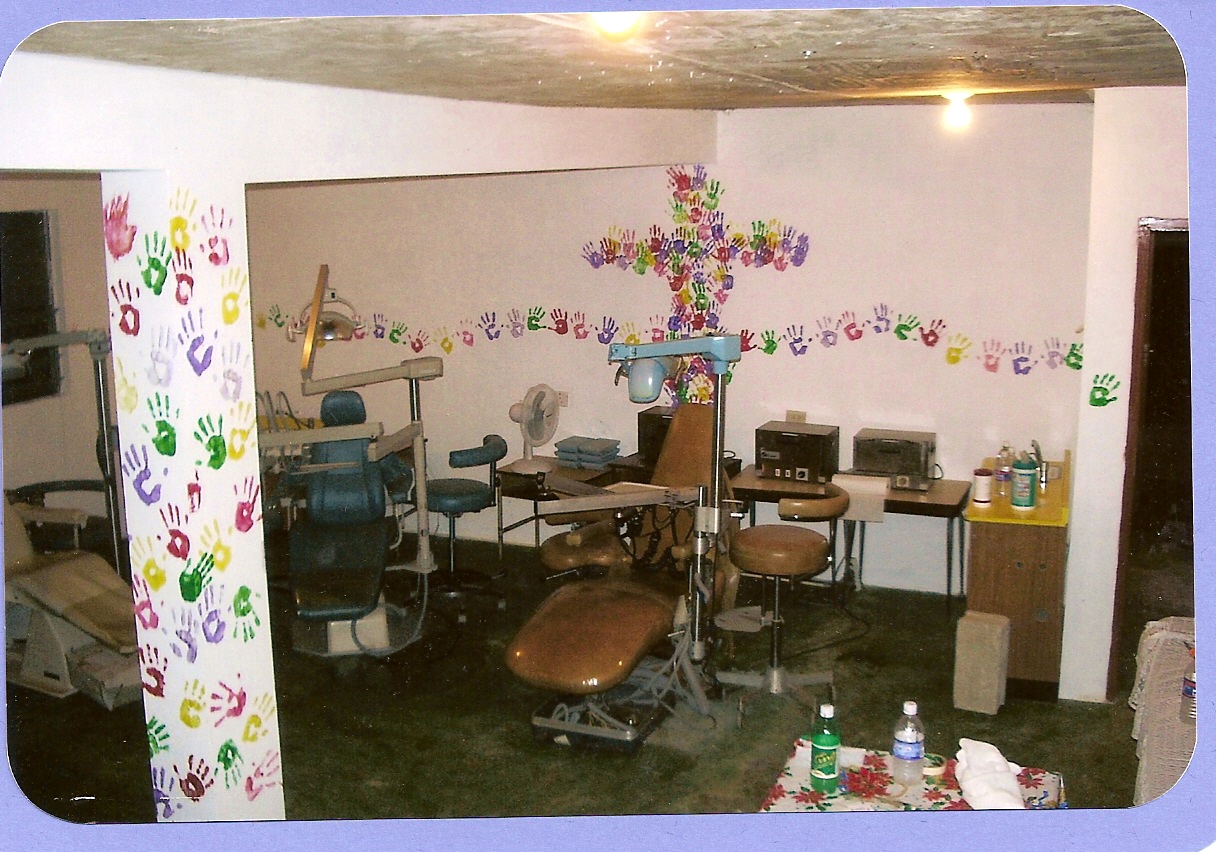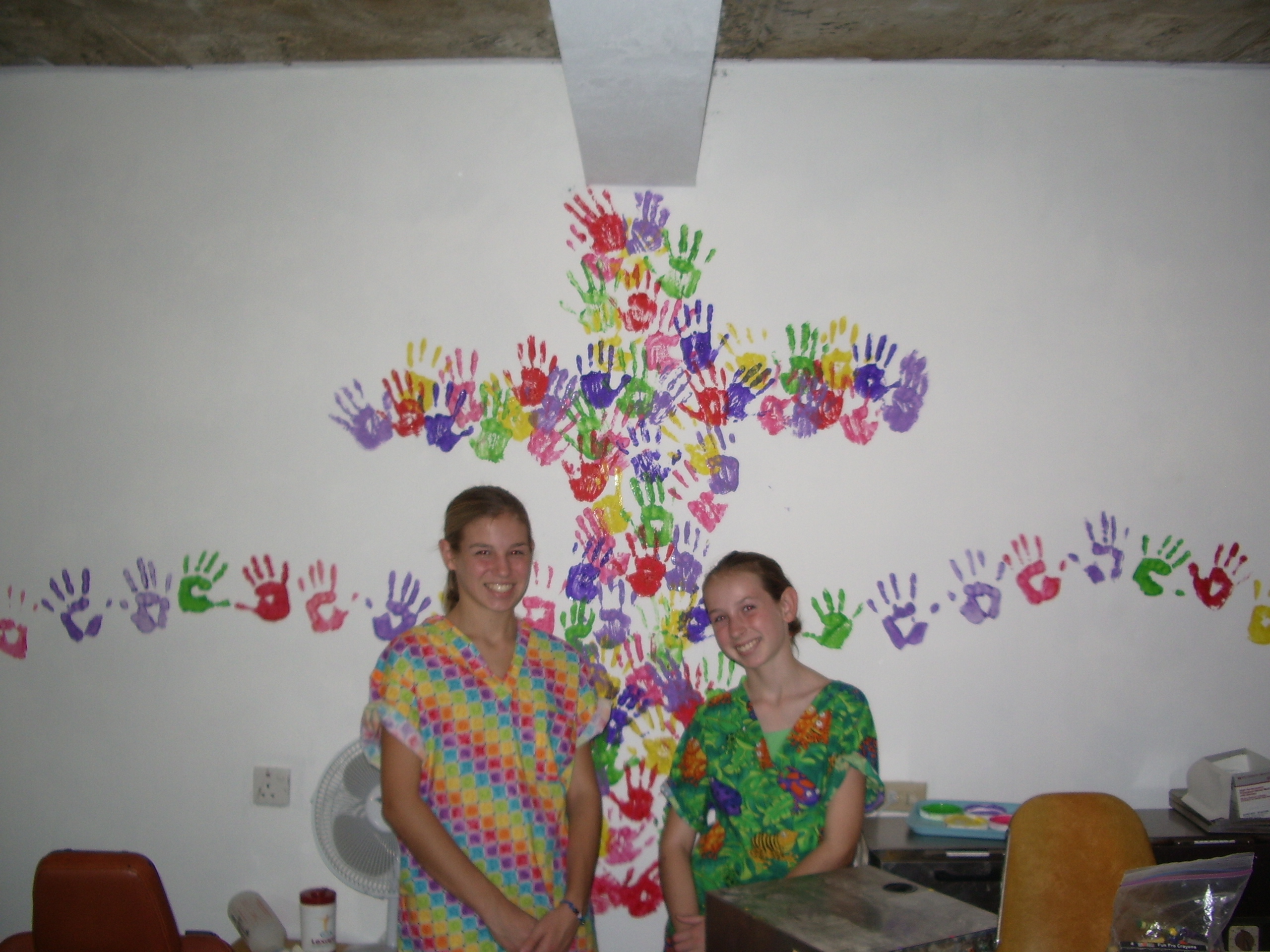 Dr. James and Dr. Susan Carney working together.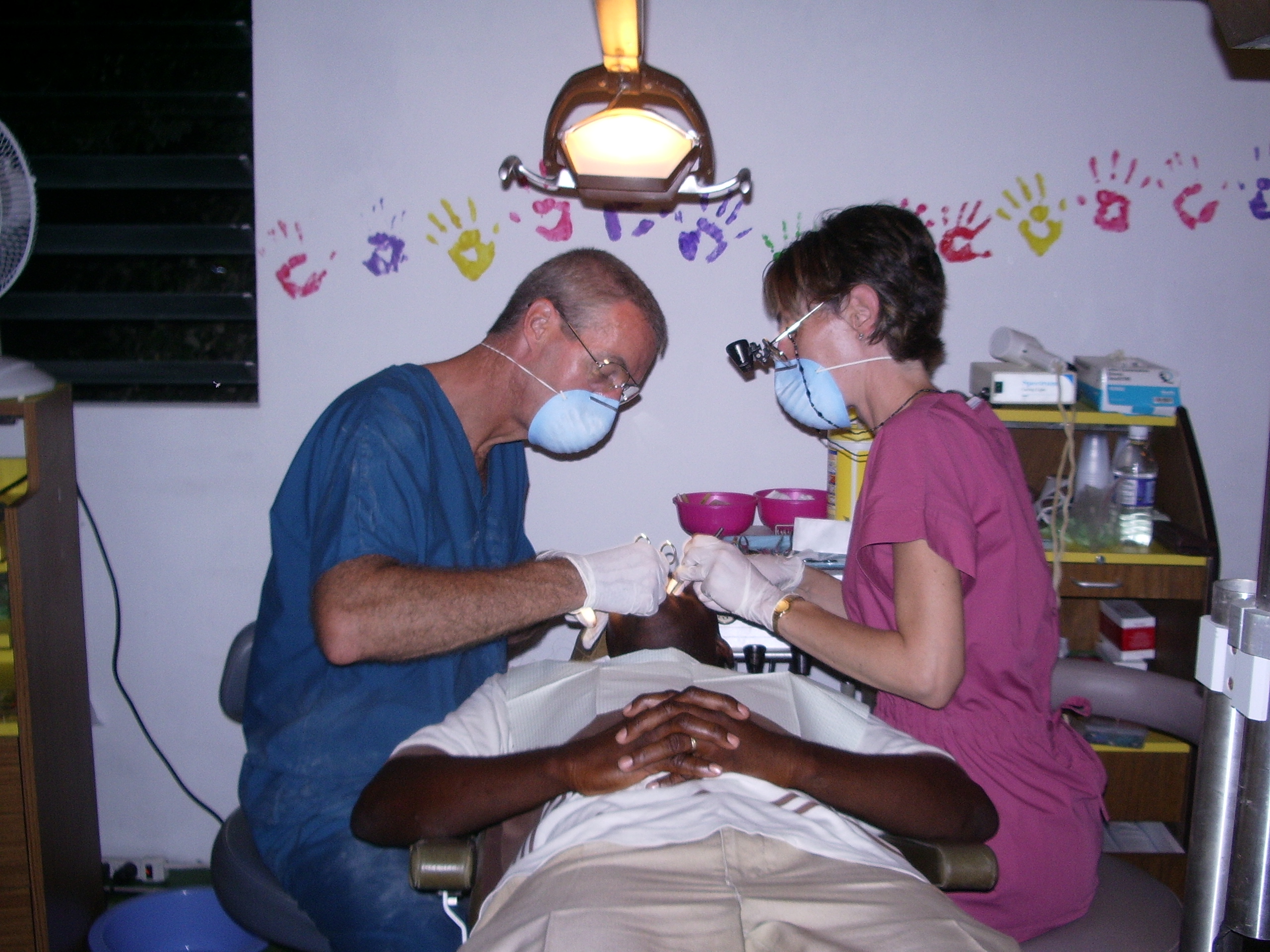 Kelly Carney assisting her mother Dr. Susan Carney.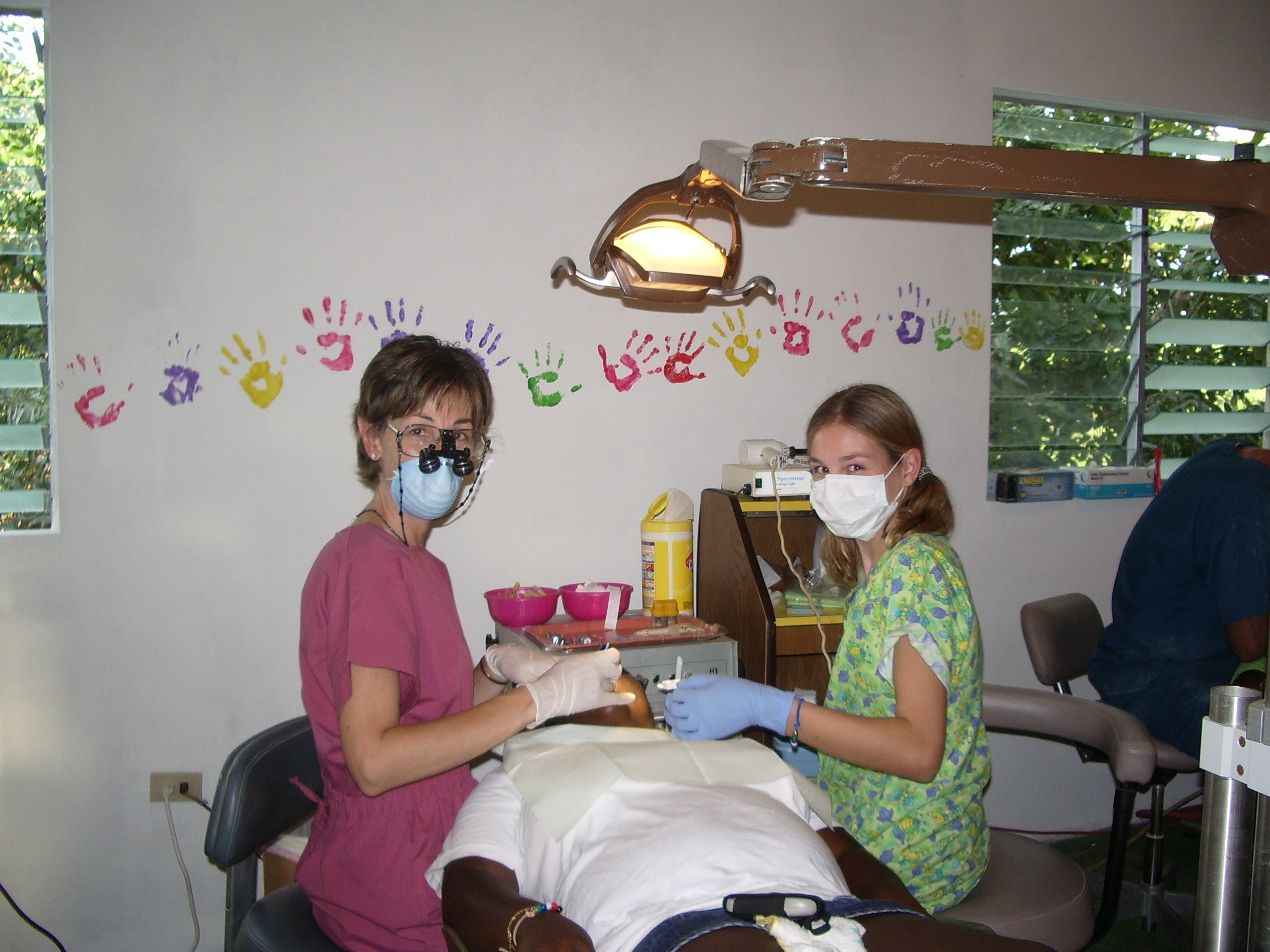 Dr. James Carney with Lawrence, a blind, and deaf orphan from Missionaries of the Poor Orphanage.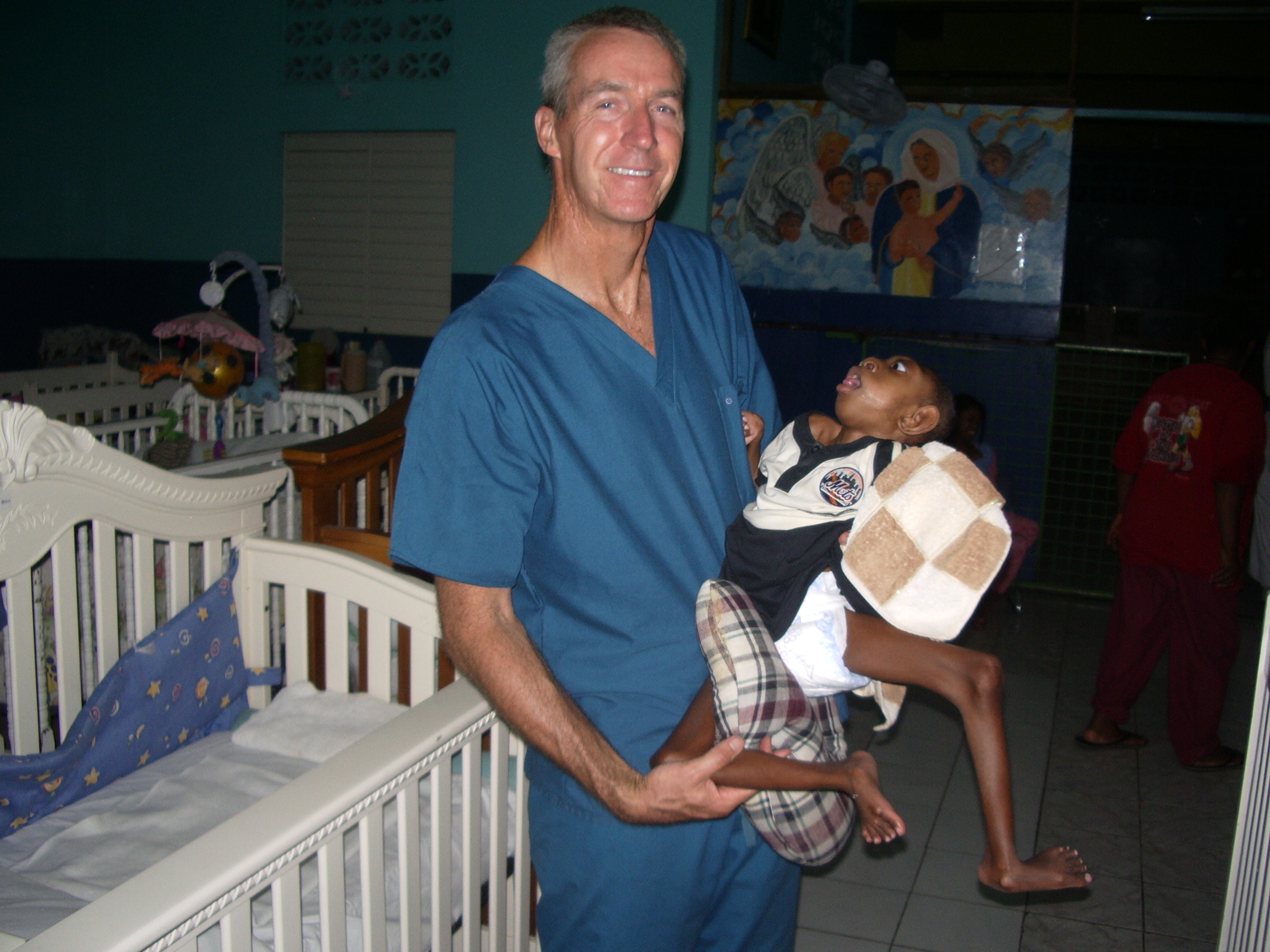 Dr. Carney, Jeanne and Lawrence. Though he cannot hear, or see, he knows when Jeanne is around. He is so happy to be in Jeanne's arms.

The Carney Family on their way to serve the poor in Jamaica,